Puerto Colon Tourist Guide & Information, Costa Adeje
Puerto Colon is a pleasant walk from Playa de las Americas (Veronicas) 1.2 km, or from Playa del Duque 1.5 km in the other direction. There are plenty of bars, cafes, restaurants, and ice cream stalls on route to keep you refreshed.
The harbour is well worth a visit, and look for the very unusual statue near the road just above the harbour.

Puerto Colon Harbour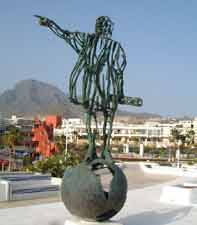 Wire Frame style Statue of Christopher Culumbus above the harbour
Bars
The Puerto Colon Shopping centre is one mass of bars, restaurants and gift shops and overlooks Puerto ColonMarina and continues along the sea front towards Torviscas and Playa de Fanabe. There is a lift to reach the higher levels and the main road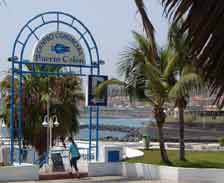 Entrance to Puerto Colon Commercial Centre from the main road above
Playa de Puero Colon Beach / Playa La Pinta Beach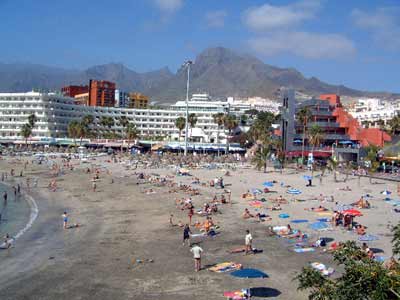 Playa de Puero Colon Beach also known as Playa La Pinta Beach
Hotel La Pinta behind the beach on the left


Puerto Colon beach Puerto Colon from Headland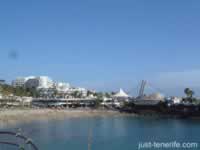 Playa La Pinta / Puerto Colon beachP
with harbour on the right
Bars & Restaurants
A wide selection of restaurants, cafes and food takeaways are located in the various Shopping centres around the resort especially next to the Harbour/ Marina and the sea front
El Molino Blanco Restaurant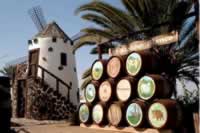 Located at a windmill the restaurant has a seriousbeutiful rustic charm with terrace , canarian coutyard full of tropical plants surrounding the tables.
Visited by the famous such as Rod Stuart & Maria Carey
Music every night by prestige artists including there own singing chef
Open Restaurant 6pm to Midnight & Cocktails 6pm to late.
Avenida de Austria, 5. San Eugenio Alto, 38660 Costa Adeje, Tenerife
Tel.: +34 922 796 282
Bars
See our Costa Adeje Barpage which has a map, photos & descriptions.
Royal Dolphin (Delphin) Puerto Colon, Costa Adeje. 2, 3, 4.5 hour Cruises
Example Excursion
Puerto Colon to Masca Beach nestled under the Los Gigantes cliff
4.5 Hours Includes
Snack
Drinks
buffet Lunch
Hotel Pick up from Most Southern & resorts See there Website
Royal Royal Dolphin Video
Shopping Centres
The shopping centres on the sea front are one mass of bars, cafes, restaurants and food outlets. The shops in these centres mostly sell tourist goods beach wear, suncreams & tourist souvenirs. For fashion clothing shops the San Eugenio Shopping Centre is better and also higher class.
Centro de Costa Shopping Centre Located overlooking Toraviscas beach
Puerto Colon Shopping Centre Located overlooking Puerto Colon Marina / Harbour & Beach
Cristal Shopping Centre Located overlooking Puerto Colon Marina / Harbour infront of the Hotel Parorama
Playa Shopping Centre overlooking Puerto Colon Beach & the entrance to the Marina.
San Eugenio Shopping Centre Located 500 metres inland with the main bus stop for the area on the main road, Avenida Pueblos, outside the shopping centre. Although this shopping centre has bars and restaurants there are a much larger number of shops
See the location of these Shopping Centres on our Puerton Colon Map
Bus Services
Bus Stop San Eugenio Shopping Centre
Bus Stop Location
Bus Stop Located outside the San Eugenio Shopping centre on both sides of the road on Avenida de los Pueblos.
Bus routes from San Eugenio Shopping Centre