Page Menu
RIU Palace Tenerife hotel, Playa del Duque, Costa Adeje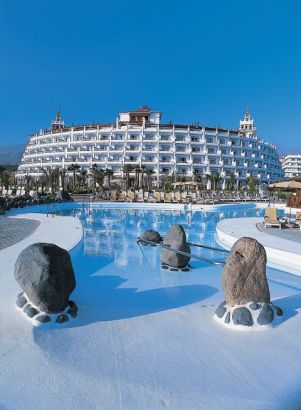 Photograph RIU Palace Tenerife hotel
Secure online booking
All our bookings are through top UK tour operators for package holidays or booking agents for hotel rooms
Book a Package Holiday with Flight, just the Hotel, or More Information with Thomson
Book a hotel room
Book a room direct with RIU Hotels & Resorts
General Description
The RIU Palace Tenerife is one of the most elegant & lavish high quality hotels in Tenerife. The hotel is set in leafy sub tropical gardens & offers everything you would expect from the RIU hotel chain luxurious furnishings, exquisite cuisine, and high standards of service and has that special setting, 350 metres from Playa del Duque Beach.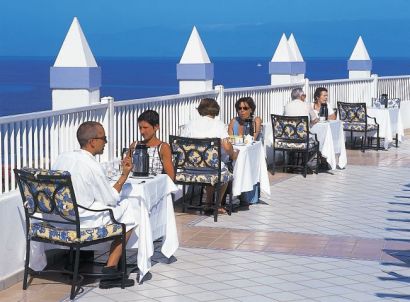 Photograph RIU Palace Tenerife hotel terrace
Official rating 4 Star Hotel bedrooms 296 Lifts 4
Location
350 metres from Playa del Duque Beach.
supermarket and restaurants 300 metres from the hotel.
The resort centre's shops, bars and restaurants are two kilometres away
Nearest bus stop: 2 min's. walk Riu Palace stop. More Bus information
Facilities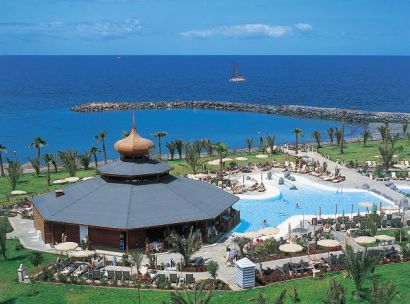 Photograph RIU Palace Tenerife hotel pool
2 swimming pools
pool bar serving snacks
sand terrace solarium with bar
children's pool
children's playground
air conditioning
shop
FREE sunbeds, umbrellas and towels
Entertainment
daily live music
show programme several times a week
Sports and Relaxation
2 floodlit tennis courts
FREE table tennis
Restaurants Meals and Cuisine
Non smoking dining roombuffet breakfast with sparkling wine
buffet dinner, main course waiter service
2 theme buffets weekly
complete table service available on request
speciality restaurant "La Caleta" available (no extra charge for half board guests)
gentlemen are required to wear long trousers and a collared shirt to dinner (no T shirts allowed)
Christmas Day and New Year's Eve Gala Dinners included
Bars
Lounge bar
Lobby bar
Pool bar
Guest rooms, Room facilities

Photograph RIU Palace Tenerife hotel bedroom
2 or 3 beds
satellite TV
telephone
hairdryer
ceiling fan
safety deposit box
Mini bar
air conditioning
single rooms available
king size bed in suites
Some facilities may incur extra local charges
Tenerife Hotels, Aparthotels & Tenerife Self Catering Apartments to rent.
Costa Adeje Accommodation
North Coast Accommodation
South East Coast Accommodation
South West Coast Arona Accommodation
South West Coast Adeje Accommodation