Masca Tenerife, Canary Islands
Masca Description Masca Walk to the Coast
Masca Description
Masca is a very picturesgue village that is a photographers dream come true, so don't forget your camera. Located on a steep hillside on one of those secondary roads that seem to consist only of haipin bends. The bends are so tight that big coaches can not use them and small coaches have to do a bit of reversing to get round some of the bends. Most of the village is situated below the road down steep zig zag local roads and paths. Remember as you go down you have to walk back up, which takes longer. Because Masca is reguarded as Tenerife's prettiest village set in it's gorge it is well worth visiting. Masca is rated as the second tourist spot in Tenerife. Teide being the first.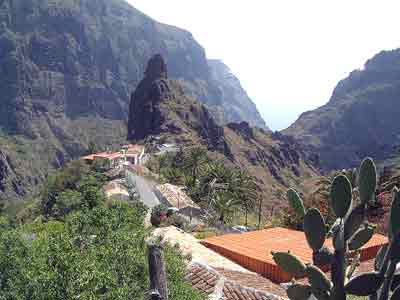 Masca and the ravine that descends to the coast 15km away.
Masca is approximatly 30 km inland on the nearest road that runs roughly parallel to the coast. Head towards the Teno peninsular from Santiago del Teide. This road has several excellent viewpoints and was only built in 1991. Before then it was a lomg walk.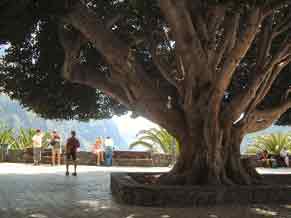 A viewing point in Masca and shadyancient tree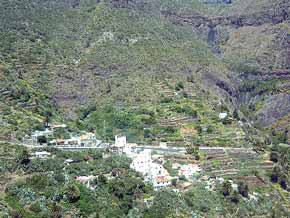 Masca from the other side of the valley
Although small, Masca caters for the tourist, with souvener shop, cafe and bar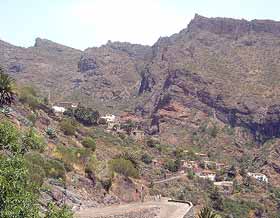 View from Masca, Tenerife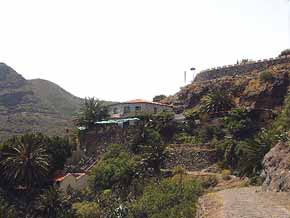 This restaurant in Masca probably has the best view in Tenerife
Buses
Bus Service by Titsa
Line 355 : Buenavista - Masca - Valle Santiago 4 buses in each direction per day
Line 365 : Buenavista - Masca 2 buses in each direction per day
Mount Teide, Garachico and Masca Village Coach excursion
Various coach tours go to Masca. The one I went on was a full day trip that included Mount Teide, Garachio, Icod de los Vinos, Masca and Los Gigantes
Masca Walk to the Coast
For the very fit, they say that the 6 hour return hike down the ravine to the coast is a spectacular walk. The gorge narrows down to 20 metres wide in places and rich in weid rock formations.
For the less energenic you can do a one way (downhill) trip to the beach, then return to Los Giganis by boat. This is organised by a few excursion companies, where a coach is provide from your hotel to Masca, hike down the ravine to the sandy beach, and get a boat to Los Gigantis where your coach will pick you up to take you back to your hotel. Keep your fingers crossed for a calm sea so the boat can pick you up.
Note that the temperature in the Gorge can be very high especially in mid summer. An early start, say 9am when the morning temperature is lower.
Take plenty of water, strong shoes or hiking boots are required, definatly not flip flops.
The descend usually takes 3 - 4 hours for average fitness.
The boat ferry ride to Los Gigantes takes 10 around minutes with spectacular views of the Los Giganes Cliffs and chance of seeing dolphins.
Buses
2 buses a day from Santiago del Teide and 4 from Buenavista del Norte.