Adeje Town area Capital Costa Adeje Information Bars & Clubs in Costa Adeje
Restaurants in Costa Adeje Buses & Bus Routes in Cost Adeje Shopping in Costa Adeje
Tourist information Offices in Costa Adeje
Beaches in Costa Adeje
Diego Hernandez Naturist beach La Enramada Beach (La caleta) Playa de Fanabe beach Playa de Troya Beaches Playa de Troya Beaches
Costa Adeje Information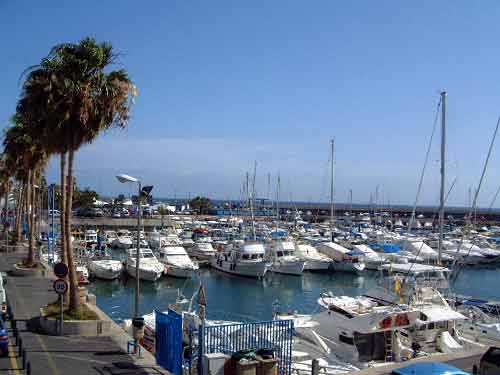 Puerto Colon Marina, Costa Adeje
Costa Adeje, is is the coastal area on the South West coast of Tenerife that stretches to the north from the bridge on the Sea Front next to Veronicas Commercial Centre in Playa de las Americas through Puerto Colon, Torviscas, Fanabe, Playa del Duque, La Caleta, Playa Paraiso, Callao Salvaje to Marazul on it's northern border.
More information on the Costa Adeje resort areas can be found by clicking on the above links.
It has easy access to all surrounding areas. Costa Adeje has a quieter and more reserved atmosphere than Playa de las Americas, it's southern neighbour in Tenerife and is also very good for water sports. You can easily get into Playa de las Americas by bus when you want to sample the action. Many would argue that much of Costa Adeje is part of Playa de las Americas there is virtually a continuous stretch of buildings, hotels, apartments, shops, restaurants and bars all along the stretch from Playa de las Americas to Playa del Duque then only a 100 metre gap which appears to have signs of becoming a building site (2008) before La Caleta starts.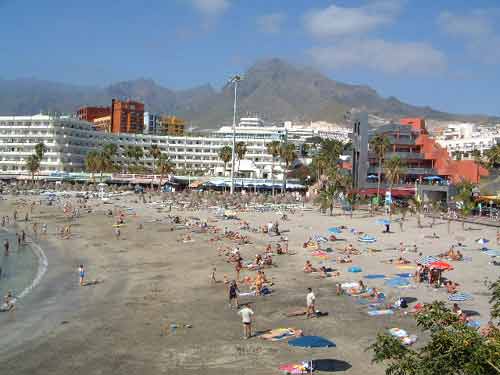 A Costa Adeje Beach
The wonderful coastline consists of fabulous beaches of fanabe, torviscas, Playa del Duque, in the bays and also rocky headlands and coves. Enjoy a stroll along the front on a paved promenade or path for almost the entire length from La Caleta to Los Cristianos. From Los Cristianos to Playa de Troya the walk is flat, then there is a hill with a series of steps on the promenade at Playa del Bobo. The steps can be avoided by a slightly longer journey via the main road.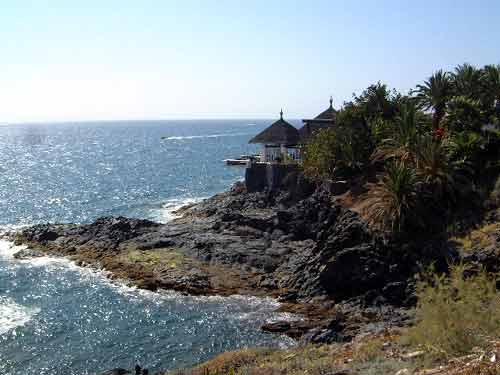 Rocky area Costa Adeje
Costa Adeje Restaurants, Costa Adeje Bars and Clubs
There is a good selections of Restaurants in all the resorts of Costa Adeje from your typical tourist ones, British ones and those serving the local cuisine.
There are a few excellent restaurants on the Playa del Duque sea front at the Mirador Shopping centre
At Playa Fanabe, Playa de Troya the beaches are backed by shopping centres with many bars & restaurants from fast food to traditional British, International and Canarian cuisine.
Bar Listing
More Information is given on our Costa Adeje Bar Page
Adeje Town
The old town of Adeje is the administration town for the area. Adeje has a quieter atmosphere . You can easily get into Playa de las Americas by the bus number 416 when you want to sample the action, journey takes about 30 min's. Adeje is situated 3 km inland of La Caleta and the town nestles under the steep mountain range that rises up to the Teide National Park. The steep sided ravine Barranco del Infierno is a fabulous walk and starts at the very top end of the town see below
Adeje Town Attractions
Barranco del Infierno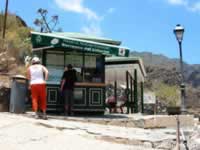 Barranco del Infierno Ticket & Information Office
The main natural attraction of Adeje is the nearby Barranco del Infierno, the deepest gorge in not only in Tenerife but the Canary Islands. The very impressive steep sides of the deep Hell's gorge Barranco del Infierno can be reached by a trail from Adeje. Allow around 4 hours for a return hike. Strong footwear and additional clothing advised. There is a small 80 metre high waterfall in the upper reaches of the ravine, with amazing views to be seen. Note how the vegetation changes as you ascend up the Barranco del Infierno.
A charge is made and only limited numbers are allowed into the gorge so it is advisable to book in advance.
At least a litre of water is required because the ravine is a sun trap. Hard hats, provided, have to be worn in the higher reaches. The ravine may be closed during and after rainfalls because of the danger of rock falls.
Iglesia de Santa Ursula
16th century church Iglesia de Santa Ursula
Casa Fuerte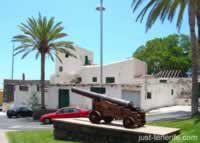 Canon in front of Casa Fuerte
Casa Fuerte a fortified hacienda. Unfortunately not open to the public. The Casa Fuerte has quiet a history and a large collection of documents have been handed over by it's owners to the Biblioteca Canaria
Biblioteca Canaria
Biblioteca Canaria is the Historic Archives, where the latest innovations in information technology are being used to display the information & documents received from Casa Fuerte, Marquis of Adeje, the county of La Gomera, the manor of El Hierro and the estates of Ampudia and Cea, from century XVI up to century IXI.
Open: 09.00 13.00 & 17.00 to 19.00. Monday to Friday
Biblioteca Canaria, Calle Grande, 38. 38670 Adeje
Beaches
Adeje is an inland town & the nearest beaches are around 3 to 4 kilometres away, and are Playa de la Esmeralda (La Caleta), Playa del Duque & Playa de Fanabe
Airport transfer time
Reina Sofia airport Transfer time: 35 minutes to 1 hour 30 minutes
Costa Adeje Beaches
The beaches are listed from South to North along the Costa Adeje coast
Cost Adeje Buses & Bus Routes
Buses in the Costa Adeje area and throughout Tenerife are operated by Titsa. The buses are cheaper than in the UK and very frequent on the popular routes. The buses are modern & clean.
Main Bus station
The only bus station in Costa Adeje has for years has been called the Playa de las Americas bus station but it is actually in Costa Adeje and Titsa the bus company have now been calling it Costa Adeje Bus Station, but only on some of it's routes, and Playa de las Americas bus station on the others
Bus Discount Fares
We recommend the purchase of a Bono Card which provides the users, more than 1 user is allowed, discounted fares of either 30% or 50% depending on distance.
Further bus information
Shopping in Costa Adeje
There is a fabulous selection of shops in the Costa Adeje. The shops are mainly in the Shopping centres and we show the location of these with our resort pages
Nearest Airport to Costa Adeje
The nearest airport is Tenerife South Airport TFS (Tenerife Sur) also known as Reina Sofia airport
For information on Airport to / from Hotel or Apartment Transfers see Airport Transfers
Costa Adeje Tourist Information Offices
Plaza del Duque
Located inside the Plaza del Duque shopping Centre
Centro Comercial Plaza del Duque.
Tel. 922 716 377
Fax 922 714 397
Open Monday to Friday, 10 am 5 pm
Playa de Troya
Located on the Sea Front promenade near the Bridge with Veronicas on the other side
Rafael Puig Lluvina, 1. 38660 Costa Adeje
Tel. 922 750 633
Fax 922 788 955
Open Monday to Friday, 9 am 5 pm
Playa Fanabe
Located on the Sea Front promenade at Fanabe beach
Av. Litoral, Playa Fañabé. 38660 Costa Adeje
Tel. 922 716 539
Fax 922 716 643
Open Monday to Friday, 10 am 5 pm
Costa Adeje Information and Description Barranco del Infierno Ravine Beach Coves
Iglesia de Santa Ursula Church Casa Fuerte Fortifications Airport transfer time