La Caleta, Tenerife, Spain
La Caleta Description La Caleta Apartments & Hotels La Caleta Attractions & Activities
Bars Restaurants in La Caleta La Caleta Beach La Caleta Bus Bus Information
  Parking Shopping in La Caleta La Caleta Tourist Information Office
La Caleta Description
La Caleta is a small quiet fishing village and resort, with a few bars and restaurants. The two main roads from caleta soon head inland, rather than run along the coast. But you can have a pleasant and scenic walk by heading to Playa de las Americas, along the coast. You have a maintained path in this direction to the next resort, Playa del Duque. The path goes all the way to Los cristianos if you wish to continue. If you walk in the opposite direction, away from Playa de las Americas, you will find rough trails along the coast to a couple of quiet coves such as Playa de Diego Hernandez used by nudists, non nudists and Hippy bay where you sometimes find a few hippies camped there and also some nude sunbathing on he flat rock shore line of the bay.
More information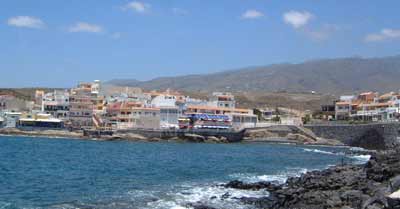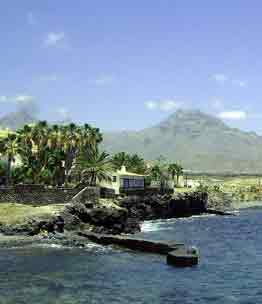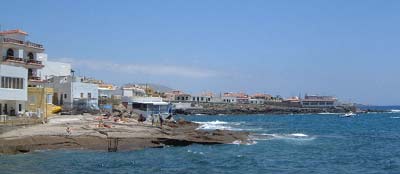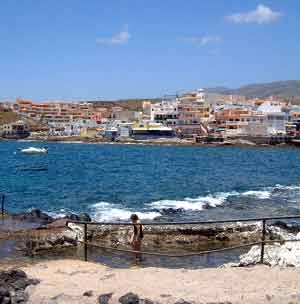 La Caleta Apartments & Hotels
La Caleta Attractions & Activities
Swimming in the sea
Swimming is mainly conducted off the rocks allowing for jumping in or diving off some of them. In the popular spots there are iron ladders making it easy to get out or the sea. Because the area is so rocky the sea is crystal clear and good for snorkling.
Fishing of the rocks
Walking
To the north of La Caleta is dramatic open mainly uncultivated countryside that is classified as an area of scientific interest. There are walking trails both along the coast and further inland that stretches up the coast to El Puertito 2 kilometres away, followed by Playa Paraiso a further kilometre. Strong shoes are strongly recomended for walking in this area. The trails also lead to the hippy bay and the quiet sandy beach of Playa de Diego Hernandez a naturist area
Sunbathing
Bars Restaurants in La Caleta
La Caleta has a small selection of bars & restaurants with some excellent fish restaurants. Many of the bars & restaurants are located right on the sea front rocks with majestic views across the cove like bays or out to sea
La Caleta Beach


La Caleta kids paddling on the beach
The beaches at Calate its self are very small and are of pebbles and not sand. There are sandy beaches aboat 1 kilometre away along the coast in either direction.
La Caleta Bus Information
Bus Stops
The La Caleta bus stops are at:
La Caleta de Adje located central in La Caleta next to the roundabout on the main road
Las Gaviotas bus stop Hotel Jardin Caleta located at the edge of the town in the direction of Playa del Duque
See Bus Stop locations on our La Caleta Map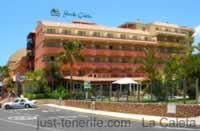 Las Gaviotas bus stop to Caleta. Outside the Jardin Caleta Hotel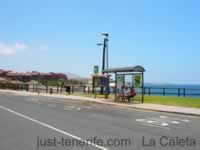 Las Gaviotas bus stop to Caleta. Opposite side of road from the Jardin Caleta Hotel
La Caleta Bus Routes
Bus 416 Grandilla Adeje
Approximatly every 40 minutes
via San Miguel V. San Lorenzo La Camella Cabo Blanco Cruce Buzanada Los Cristianos Avda. del Ferry PLaya de Las Américas Torviscas La Caleta
Bus 416 La Caleta San Lorenzo
La Caleta -Torviscas - Costa Adeje Bus Station -Avda. del Ferry - Los Cristianos - Cruce Buzanada - Cabo Blanco - La Camella Valle
Approximatly every 40 minutes
Airport
Nearest Airport to La Caleta
The closest airport to La Caleta is
Tenerife South Airport
approximately 25 kilometres.
The most popular method of transfering between the airport and your La Caleta hotel or La Caleta apartment is by an Airport Transfer service.
Parking
Besides 2 large Car Parks shown on our map there is parking along most of the main roads. Check for any restrictions to parking.
Shopping in La Caleta
La Caleta Tourist Information Office
La Caleta is very small as as yet does not have a Tourist information Office.
The nearest office is at Playa del Duque Tourist information