Playa Paraiso Information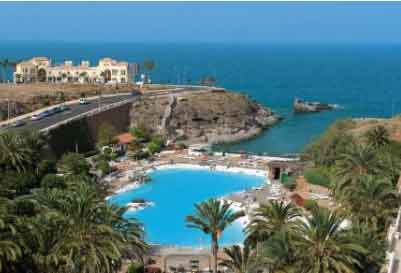 Playa Paraiso small beach and saltwater lido
and shopping centre on the left headland
Playa Paraiso is situated on the coast in the South of Tenerife, Canary Islands, about 8km north of Playa de la Americas. The resort is located next to 3 pleasant small sheltered bays & each bay has a beach.
Two of the hotel / apartment blocks are 20 stories high.
Playa Paraiso is a quiet resort and offers a few bars, some with music, shops and restaurants.


Playa Paraiso 1
Playa Paraiso beaches
The translation of Playa Paraiso is Paradise beach, I would say that the person who gave it this name had a very vivid imagination or had been drinking some of the hard stuff.
There are 3 small pebble / sand beaches that are ideal areas for snorkeling and diving, along the rocky coastline. The beaches are located in the 3 small bays that have rocky headlands. Although the bays are pleasant, at the moment the beaches are a little disappointing because the amount of sand compared to pebble is small.
There are plans to improve these beaches.
The beach is augmented by a very popular large saltwater lido.
Heading towards Playa de la Americas you will find a small pleasant hamlet of El Puertito and continuing on past the headland the naturists beach, Playa de Diego Hernandez beach and further along is La Caleta another small resort.
| | |
| --- | --- |
| Playa Paraiso beach | Largo Paraiso beach |
Lago Paraiso
The Lagoon style pool is located in central bay immediately behind the small beach. On the headlands you have the Marques shopping centre and on the other the Roca Nivaria hotel.
A charge is made to enter the lago.
The largo has a restaurant and there is also a scuba diving school based there.
| | |
| --- | --- |
| Largo Paraiso from road | Largo Paraiso island |
| Largo Paraiso restaurant | Largo Paraiso Sign |
| Largo Paraiso waterfall | Largo Paraiso behind waterfall |
| Largo Paraiso | Scuba Diving |
Shopping in Playa Paraiso

Playa Paraiso El Marques shopping centre

Bar Terraza Blue in
El Marques shopping centre
There are 2 shopping centres in Playa Paraiso both marked on our map.
El Marques is the shopping centre right on the end of the headland .
The other one is in the main street, Avenida Adeje in the towns centre
Playa Paraiso Villas
2 bedroom Villa to rent in Playa Paraiso from James Villas
Playa Paraiso Bars
There is a good selection of bars & restaurants that tend to be located on the main road that snakes it's way through the resort and also at the shopping centres
Terraza Blue Bar
The Bar Terraza Blue is a cocktail bar with a terrace on the road side if you want shade and a terrace on the seaward side overlooking the Atlantic Ocean

The Bar Terraza Blue is located in the El Marques shopping centre which is in an elevated position right on the end of one of Playa Paraiso headlands.
Talk of the Town
Bar & Cafeteria open 10 am untill late every day
Tetley's Bitter
Family showbar
Sports on Telly
Live Artists & Shows
Karaoke with a good sound system
Fun & Games
Quizes
Rock n Roll Sundays
Located in Avenidi Adeje 300 opposite the Slug & Lettuce
The Horseshoe Bar
ocated in Avenidi Adeje 300
Slug and Lettuce
Brilliant Bar Good food with great English breakfast
Popular Sunday dinners
Karaoke
Freindly & funny staff
Relaxing and chill out atmosphere!
Britannia Inn Bar
Popular British Bar with your hosts Kim & Lee who give a true welcome in this friendly bar
Family friendly
English Football on the Telly
Fun atmosphere
British & Continental beers
Good selection of music.
Reasonablly priced drinks and good meals
Located in Avenidi Adeje 300. Upper Floor
Emperador II Bar
Rythm n Booze
Located in Avenidi Adeje 300. Upper Floor Just above the pagoda shaped building
Francis 2 Bar & Restaurant
British Bar
John Smiths Beer, Carling lager & Stongbow Cider
Live Sports on Telivision
Located in Avenidi Adeje 300.
Eldon House Pub
British Bar with your hosts Lyn and Stephen who assure a welcome to the many ex pat regulars & holiday tourists.
British Food such as Fish & Chips,l roast diners on Sunday. Only fresh vegatables are used.
Tetley's Bitter & Carling,
Good pub for chatting in with only background music.
Games
Address:Local 106, CC Paraiso del Sur, Playa Paraiso, Playa Paraiso, 38678
Playa Paraiso Restaurants
Many of the Playa Paraiso Bars are also restaurants or have food available.
Casablanca Pizzeria & Steak House
Located in Avenidi Adeje 300 almost at the very top northern end.
Chinese Restaurant
Large restaurant in a pagoda styled building with a blue tiled roof
Large outdoor covered terrace
Italiana Bar Cafeteria
Pasta
Pizzas
Chicken
Tapas
Fish
Meat
Snacks
Located in Avenidi Adeje 300.on the northern side of the lido
33 Restaurant Pizzeria
Located in Avenidi Adeje 300. Just above the Felipe Supermarket
Par Bar Restaurnt
Located in Avenidi Adeje 300
L´incontro
Restaurant
The L´incontro Restaurant is Italian and located opposite Paraiso Lago swimming pool
Restaurant with very good food at reconable prices.
Giulia Mare
Restaurant
Location of an excellent & chic restaurant Giulia Mare is on the seaward side of the El Marques shopping centre with great views over the sea.
Playa Paraiso Bus Services
Playa Paraiso Bus Stops
| | |
| --- | --- |
| Bus Stop Sta Cruz in Playa Paraiso | Bus stop Paraiso in Playa Paraiso |
Bus Stop Sta Cruz in Playa Paraiso
Located on a coastal stretch about 100 metres from the El Marques Shopping centre
Bus stop Paraiso in Playa Paraiso
See location of Playa Paraiso Bus Stops on our Google Interactive Playa Paraiso Map
Playa Paraiso Bus Routes
The main bus route to Playa Paraiso the 472. Los Cristianos to/from Callao Salvaje
Heading South
This bus goes through the Southern resorts of Fanabe, San Eueno & Playas de las Americas, but misses La Caleta, on the way to Los Cristianos
Heading North
Use the 473 or
If using the 472 Change at Callao Salvaje
Bus route 473 Los Cristianos to/from Los Gigantes
is an alternative, & longer route, but this bus runs along the main road 2 kilometres inland from the coast. Bus stop Em Paraiso
This bus also goes to Adeje. The reginal town. Adeje is located right up aginst the extremly steep mountains and a fabulous walk into the Hells Ravine. This walk must be booked in advance
Bono discount bus ticket are on sale at Felipes supermarket
Kids Playground
There is a kids playground with tunnel slide, swing & seesaw, The playground is surronded on 3 sides with open space with bench seats